Guide About E Resources
Citation Manager
 RefWorks
RefWorks is a web-based commercial reference management software package. It is produced by Ex Libris, a ProQuest company. Users' reference databases are stored online, allowing them to be accessed and updated from any computer with an internet connection. Many bibliographic database providers have implemented the ability to export references directly to RefWorks.
Tutorials
https://www.youtube.com/watch?v=J5905oxj02U&feature=youtu.be (5 Minutes)
In this brief introduction to RefWorks, you'll learn how to find and save references while doing your research, how to organize references once they're in RefWorks, and how to cite those references in your writing.
Microsoft Office Plugin Cite while You Write.
A word processor integration utility called CiteWhileYouWrite enables users to insert reference codes from their RefWorks or EndNote accounts into Microsoft Word documents, which can then be formatted to produce in-text citations and reference lists in various styles
Install Plugin for Microsoft Word from here..
ebrary offers a wide variety of multidisciplinary content. It acquires large number of titles from leading academic publishers.

Freedom Subject Collection

 from ebrary. 

(More Info...)
Webinar
ProQuest Ebook Central Advanced
Here are the session materials now ready for you:
Watch the recording of the session here .
Know more how to use ProQuest resources by visiting the LibGuide page .
You may visit our webinar page to know more about the upcoming webinars.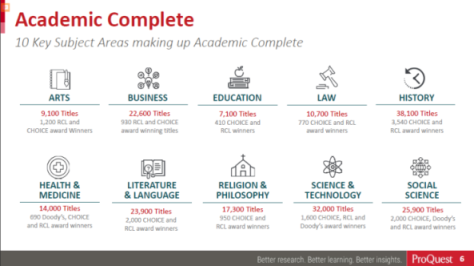 ​
ProQuest Ebook Central: Tips & Tricks for Faculty  (April 28th at 2pm EDT) - View the recording here. 
During this new and often unfamiliar teaching and learning environment, students and their instructors need to rely on as much electronic content they can access.  While the physical library may be unavailable, books are not.  ProQuest's Ebook Central ebook titles can be used as course reserves, made into supplemental reading lists (and shared easily with students), highlighted and annotated for focused reading and reviewing.  After this 30-minute session, faculty members will have the knowledge to locate titles applicable to their courses, create lists of books and recommend them to students, and discover Ebook Central tools that assist with research. 
ProQuest Dissertations & Theses Global is the world's most comprehensive collection of dissertations and theses from around the world, spanning from 1743 to the present day and offering full text for graduate works added since 1997, along with selected full text for works written prior to 1997. It contains a significant amount of new international dissertations and theses both in citations and in full text..

(More Info…)
The ASTM Standards & Engineering Digital Library is a vast collection of industry-leading standards and technical engineering information. It covers a broad range of engineering disciplines, including aerospace, biomedical, chemical, civil, environmental, geological, health and safety, industrial, materials science, mechanical, nuclear, petroleum, soil science and solar engineering. 

(More Info...)
Science Direct is the world's leading electronic collection of scientific journals.
Renowned for the high-quality of its content in all branches of science, technology and medicine.\
            Subscribed Subject Areas
Engineering

Chemical Engineering

Computer Science

Materials Science
SpringerLink provides access to 503 full-text Springer-Verlag Journals and 738 full-text journals formerly published by Kluwer Academic Publishing.

One of the world's leading information services for Science, Technical and Medical journals.
Provides access to almost 1 third of the world's current Electrical Engineering and Computer Science literature.

IEEEXplore ® provides full-text access to 174 IEEE and 46 IET journals, magazines, transactions and conference proceedings as well as active IEEE standards. 

(More Info...)
Taylor & Francis has grown rapidly over the last two decades to become a leading international academic publisher.

More than 1000 journal titles in a full range of disciplines. 

(More Info...)
Since the Blackwell-Synergy merger with Wiley-Interscience, all the journals available to HEC consortium are now available through Wiley-Interscience.

Online database containing over 1,234 journals in science, technology, medicine, humanities and social sciences. 

(More Info...)
Emerald is a dynamic database comprising over 150 titles in the fields of " Management, Information Science and Engineering.

The Emerald full text collection features over 58,000 articles from titles published by Emerald.

Flagship titles such as Management Decision, European Journal of Marketing, Journal of Documentation, Leadership & Organization Development Journal, The TQM Magazine and Industrial Robot. 

(More Info...)
Provides access to the full-collection of highly-rated of 11 Journals and conference proceedings.

Covers developments in Physics, Industrial Applications (Applied Physics), and advances in Scientific Computing.
The ACM contains full-text from 28 ACM Journals and Transactions, 10 ACM Magazines, over 40 ACM Special Interest Newsletters, 15 non-ACM journal and publications and over 100 annual conference proceedings.

Content strengths include all areas of Information Technology, with full archival content for all ACM publications.
47 leading international medical Journals available through "Highwire Press", without any registration